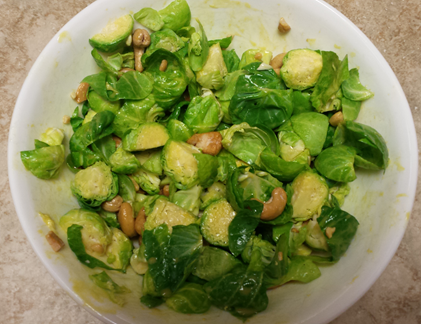 Before you and/or someone in your family gags and turns their nose up, keep this in mind.   According to the World's Healthiest Foods (whfoods.com), Brussels sprouts are now at the top of the list for commonly eaten cruciferous vegetables.  Their total glucosinolate (an important phytonutrient) content has been shown to be greater than the amount found in mustard greens, turnip greens, cabbage, kale, cauliflower, or broccoli.  This recipe features them raw, which may be a great way to reintroduce them to yourself and/or your family!  They're also in season right now and you can buy them as a big stalk, which can add to the fun of preparation. 
Ingredients:
Raw Brussels sprouts (buy the stalk or buy them individually, based on your household needs), cut into quarters
Honey Mustard salad dressing
Cashews, salted
Directions:
Snap off the Brussels sprouts from the stalk.  Trim the bottoms off if too bulky.  Cut into halves, then quarters.  If you're not sure how to do this, there are several YouTube videos online that can help you! Place cut Brussels sprouts in salad bowl.  Add about 1 tsp Honey Mustard dressing per serving.  Top with 1/3 cup cashews. 
That's it!  Enjoy