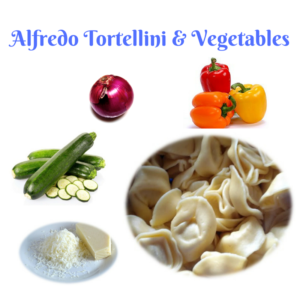 If you're craving the taste of pasta Alfredo but prefer fewer carbs, you'll love this recipe!  I used more veggies than pasta and made sure to add adequate protein.  Still full of flavor but not nearly as devastating to blood sugar and insulin levels.  It's also fast and easy to prepare!
Ingredients:
1 jar Bertolli Garlic Alfredo sauce
1 small bag cheese or chicken tortellini
1 TBS olive oil or coconut oil
3 bell peppers – 1 red, 1 orange, 1 yellow – chopped into bite-sized pieces
2 zucchini, chopped into bite-sized pieces
1 large purple onion, chopped into bite-sized pieces
1 large can cooked chicken
Fresh Parmesan cheese, to taste
Directions:
Boil tortellini according to package directions, about 7 minutes.  Drain and return to pan.  Add Alfredo sauce and chicken, mix well,  and keep warm over low heat.
Heat olive in large frying pan.  Add veggies and cook over medium heat about 5-8 minutes, until veggies are just tender.
Combine veggies with tortellini and chicken.  Mix well.   Top with Parmesan as desired.
Savor each bite and enjoy mindfully!  You'll probably be surprised at how satisfied you are when you allow yourself to taste the flavors.