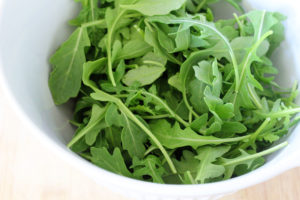 Arugula is an extremely healthy and nutritious veggie that many people have never heard of.  You can find it near the lettuce and spinach at the grocery store.  It's great in salads and has many health benefits.   It's a good source of many B vitamins, vitamins C and K, and also calcium. Try the salad below for some amazing flavors!
Beet and Arugula Salad
Ingredients (for 2 salads):
6-8 cups  arugula
1 can beets, sliced,
4 TBS walnut pieces
1 avocado, sliced
2 TBS goat cheese, crumbled
Dressing of your choice – I tried a citrus mango variety but a raspberry vinaigrette would be delicious too!
Combine all ingredients in a large bowl.  Split into 2 or 3 servings.