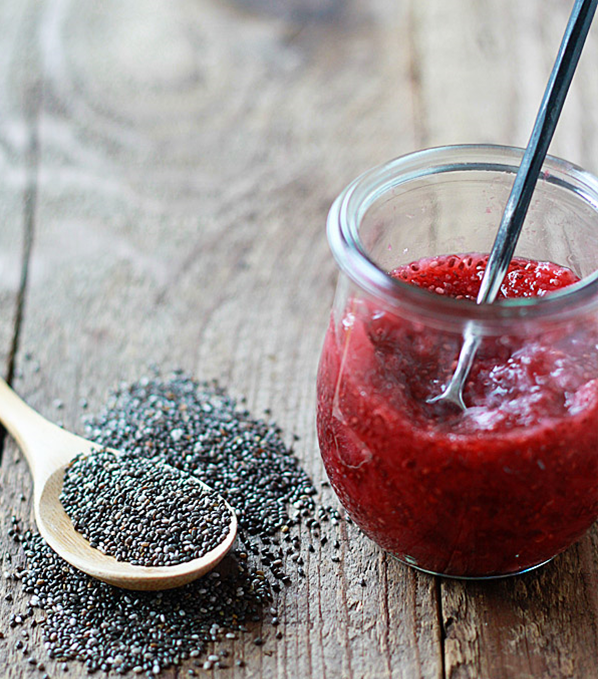 Chia seeds are a nutritional powerhouse of protein, omega 3 fats, fiber, vitamins and minerals and antioxidants.  A 2.5 tablespoon serving has 12 grams of carbs, but 11 of them are fiber, so the net carbs (the ones that raise your blood sugar) are one.  You'll also get 5 grams of protein, 20% of your daily value of calcium and 8% of your iron.
Chia seeds can also help in cancer, diabetes, and autoimmune disease prevention and may promote weight loss.  Many of my clients have improved their health with nutrition counseling and your insurance may cover it!  Call me at EXCEL Weight Loss Solutions and we'll verify your benefit and schedule an appointment for you.  The number is (208) 406-1084.
Try out this recipe below, or, if you're short on time check out the brand I found at the store (see below).
Ingredients
3 cups raspberries (if frozen, allow to thaw first)
3 TBS chia seeds
½ cup warm water
2 TBS honey (adjust to suite taste)
Directions:
Combine chia seeds with water and let soak about 5 minutes until mixture is jelly-like.  Add raspberries and honey.  Mix well, crushing the berries.  Transfer to a glass jar with lid and refrigerate.  Homemade chia seed jam doesn't last as long as store-bought, so enjoy within a couple of weeks.
If you're looking for a great chia seed jam but don't have the time to make it, try World Of Chia Fruit Spread.  I found it at Fred Meyer and it's also available at amazon.com.
Chia seeds can help lower your triglyercides and improve your blood sugars.