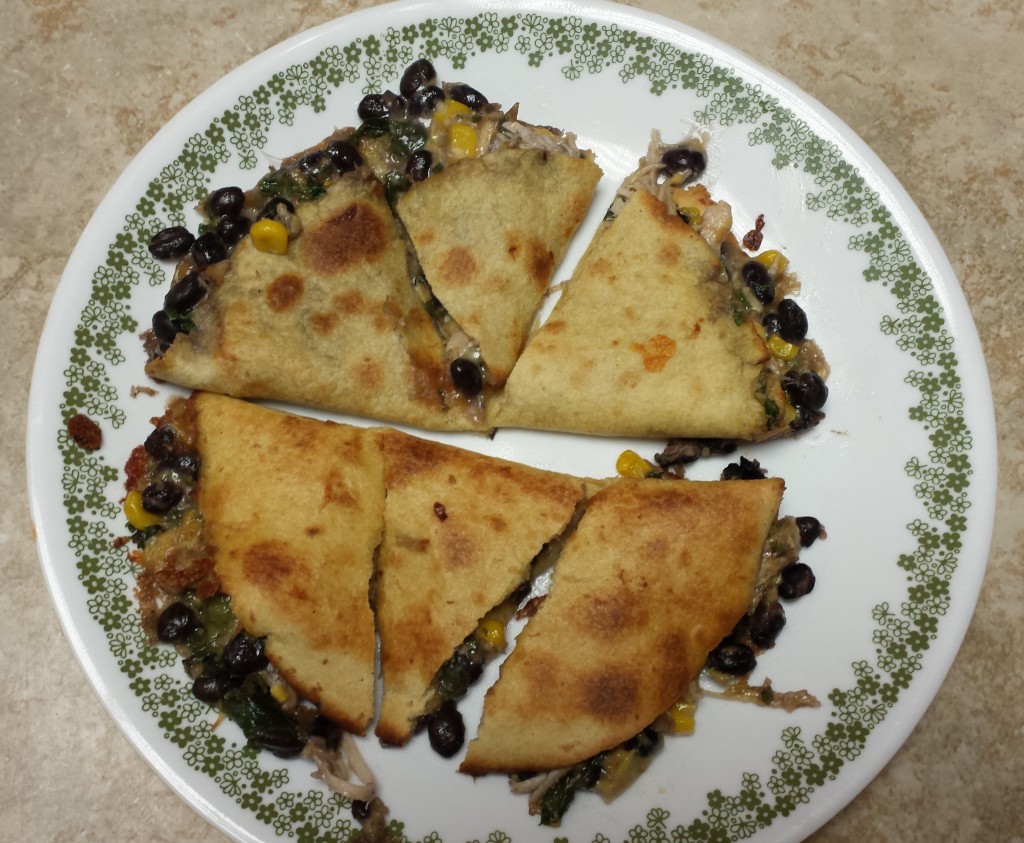 These quesadillas taste like you ordered them in a restaurant!  They are SO delicious – and easy too!
Ingredients:
6-8  flour tortillas (or use ½ flour, ½ corn) , about 6-10" in size
2 x 15 ounce cans black beans, drained
1 x 10 oz can chicken breast  (cooked chicken)
1 x 15 oz can corn
1 bunch cilantro, chopped
3-4 cups shredded Mexican cheese
 Cooking spray
Directions:
Preheat oven to 400 degrees.   
Combine beans, chicken, corn, cilantro, and cheese in a large bowl.  Mix well.
Spray baking sheet with cooking spray.  Place tortillas on sheet and top with a few big spoonfuls of the bean mixture.  Spread bean mixture on tortilla to cover completely.
Bake open-faced about 10 minutes, until cheese starts to melt and ingredients are heated.  Remove from oven and carefully fold in half, using a spatula to assist with folding.  Turn oven up to broil.  Place tortillas back in oven and broil until they start to brown and get a bit crispy.  Remove from oven and turn the tortillas over.  Return to oven and broil until they start to turn brown. 
Remove from oven.  Allow to cool slightly and then cut into triangle-shaped pieces.  Serve with salsa and enjoy mindfully. 
If you find that you just can't stop eating, even if you are physically full, you may be eating for reasons other than hunger.  Give our office a call to get help with cravings and emotional eating issues.