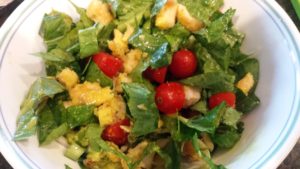 I love the crispy, crunchiness of breaded chicken in a salad, but I don't like the mess or the carbs. To improvise, I start with organic Rotisserie chicken (haha – it's like a staple in my house!) and "bread" it with some Jiffy Corn Muffin mix.  Toss with tomatoes and lettuce from the garden and you've got a delicious meal!
Ingredients:
One Rotisserie chicken, cubed
1/3 package Jiffy Corn Muffin mix
½ tsp salt
1 tsp Mrs. Dash Original Seasoning
Olive oil
Veggies for salad – lettuce, tomatoes, onions – whatever you like!
Directions:
Combine corn muffin mix with salt and Mrs. Dash seasoning.  Heat olive oil over medium heat in large frying pan.  Moisten cubed chicken with water.   Gently mix the chicken with the corn muffin mix to coat evenly. 
Cook over medium heat about 3-4 minutes on each side, to lightly brown. The chicken is already cooked, so this is FAST! 
Combine with veggies and serve!  Yummy!