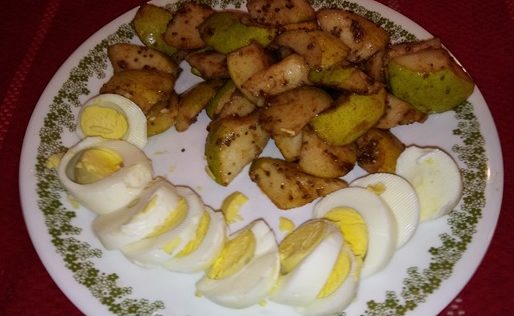 So often I hear that people don't have time to prepare breakfast – and I get that! Time is a valuable commodity. But instead of popping a frozen breakfast sandwich in the microwave, try this really fast AND healthy breakfast idea.
Here's the nutrition comparison: Breakfast Sandwich – 410 calories; 12 grams protein; 24 grams carbs – 2 grams fiber = 22 carbs to count; and 830 mg sodium.
Karen's Fast and Healthy Alternative – 372 calories; 21 grams protein; 46 grams carbs – 10 grams fiber = 36 grams to count (just over 2 carb servings); negligible sodium.
Wow! You get MORE protein, MORE fiber, LESS sodium, and just over two carb servings. This really is a better option.
Fast and Healthy Breakfast Alternative Ingredients
3 hard-boiled eggs (make the night before if you're rushed in the morning)
2 small pears, sliced
Sprinkle of cinnamon (optional)
1/8 tsp vanilla (optional)
Sprinkle of Stevia (optional)
Directions:
Eat the pears "as is" or mix in the cinnamon, vanilla, and Stevia for a spicier taste!