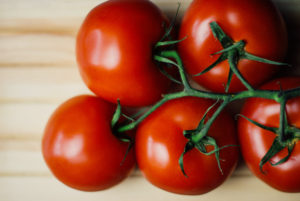 With the beautiful fall season, tomatoes from the garden are still plentiful. I still have 2 big bowls of green ones ripening on the kitchen counter. (Hint – there are a zillion ways to ripen green tomatoes from the garden, but I'm what I lovingly call myself a "relaxed gardener" which basically means my gardening and harvesting methods have to be easy so that gardening remains fun for me. That said, I pick mine off the vine before it gets too cold and let them ripen in a bowl on the counter. Other methods work, but mine is REALLY easy!) Use whatever tomatoes you have available to make this recipe and savor the flavors and colors.
Greek Salad with Chicken and Tomatoes and Feta
Ingredients for Salad:
2 boneless, skinless chicken breasts
1 TBS coconut or olive (to saute chicken)
About 10 medium to large tomatoes, chopped into large chunks
4-8 cups baby spinach
1-2 can black olives, drained
Crumbled feta cheese
Ingredients for Dressing:
3 TBS red wine vinegar
¼ cup olive oil
1-2 cloves garlic, crushed
1 tsp salt
½ tsp pepper
1 tsp basil (or 2-3 TBS fresh basil)
1 tsp parsley flakes (or 2-3 TBS fresh parsley)
Directions:
In large skillet, saute the chicken in the coconut or olive oil and cook about 5-8 minutes until done. Remove from heat and chop into small pieces.
In small bowl, combine ingredients for dressing. Mix well.
In large bowl, combine chicken, tomatoes, and black olives. Add dressing and mix well. Sprinkle with feta cheese.
Serve over spinach and enjoy mindfully. Take your time. Set your fork down between bites. Breathe.