Marinated Flank Steak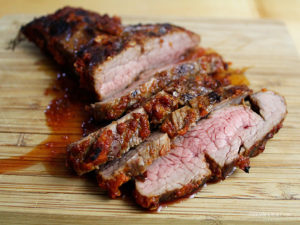 Flank steak is often ignored because it can be tough – and it doesn't have much fat –  but the secret is to marinate it for several hours before cooking.  To make it easy, use a prepared marinade.    Grill it hot and fast after several hours (or all day) in the marinade and carve it against the grain to prevent it from being tough and chewy.
I served mine "as is" for dinner and then used the leftovers for fajitas the next day. 
Ingredients: 
1 large flank steak
One, 17-oz bottle Mr. Yoshida's Sweet Teriyaki Marinade
Directions:          
Place the flank steak in a large, flat dish.  Cover with the entire bottle of marinade.  Place in refrigerator.  Turn often during the day so that the meat soaks up the flavor.  You can pierce the steak with a fork or knife to increase tenderness.
Grill over medium-high heat, turning once.  Serve when done to your specilfications!
Delicious with a baked potato and green beans on the side.