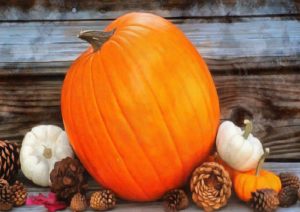 'Tis the season!  If you love the taste of pumpkin you'll love these breakfast cookies.  They are easy to make and high in nutrition – and they taste great! 
Pumpkin Breakfast Cookies
Ingredients
¼ cup coconut oil, melted
¼ cup honey
2 cups rolled old-fashioned oats
2/3 cup pumpkin seeds
1/3 cup dried blueberries
1/3 cup dark chocolate chips
¼ cup ground flaxseed
1 tsp pumpkin pie spice
½ tsp salt
½ cup canned pumpkin
2 eggs, beaten
Directions:
Preheat oven to 350 degrees.  Lightly grease baking sheet.
In small bowl, melt the coconut oil (on the stove top or in the microwave).  Stir in the honey.
In large bowl, combine the oats, blueberries, chocolate chips, ground flax, pumpkin pie spice, and salt. Add the canned pumpkin, eggs, and warmed coconut oil and honey.
Drop about ¼ cup of the mixture onto the cookie sheet and flatten with the bottom of a glass or small bowl. 
Bake 15-20 minutes until edges are lightly browned.
Enjoy!