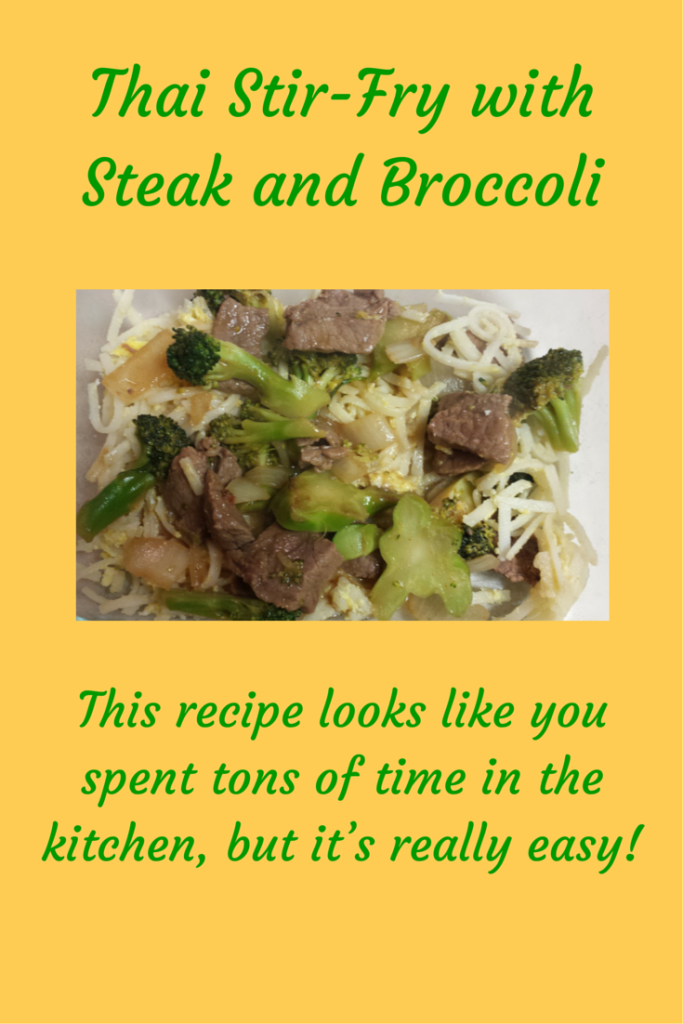 Ingredients
11.5 oz bottle Thai Peanut Sauce (whatever brand is available at your store)
1 pound sirloin steak, cut into bite-size pieces
14-oz package Thai Kitchen Stir Fry Rice Noodles
3 eggs
1 onion, chopped into bite-sized pieces
1 head broccoli, chopped into bite-sized pieces
3 TBS olive or coconut oil
Directions:
Soak rice noodles according to package directions, about 10 minutes.  While noodles are soaking, wash and prep veggies and slice the meat into bite-sized pieces.
Add 1 TBS oil to large skillet and stir-fry the meat until done, about 4-5 minutes.  Remove cooked meat from pan.  Add the rest of the olive oil and stir-fry the veggies until just warmed.  Add the cooked meat back to the pan along with the peanut sauce and stir well.  Keep warm.
In a large skillet, scramble the eggs in 1 TBS oil.  Add the rice noodles and mix well, stir-frying for about 4-5 minutes. 
Combine all ingredients or let people serve themselves, topping the noodles with the meat and veggie stir-fry mixture.
Fabulous flavors and textures!  Enjoy.