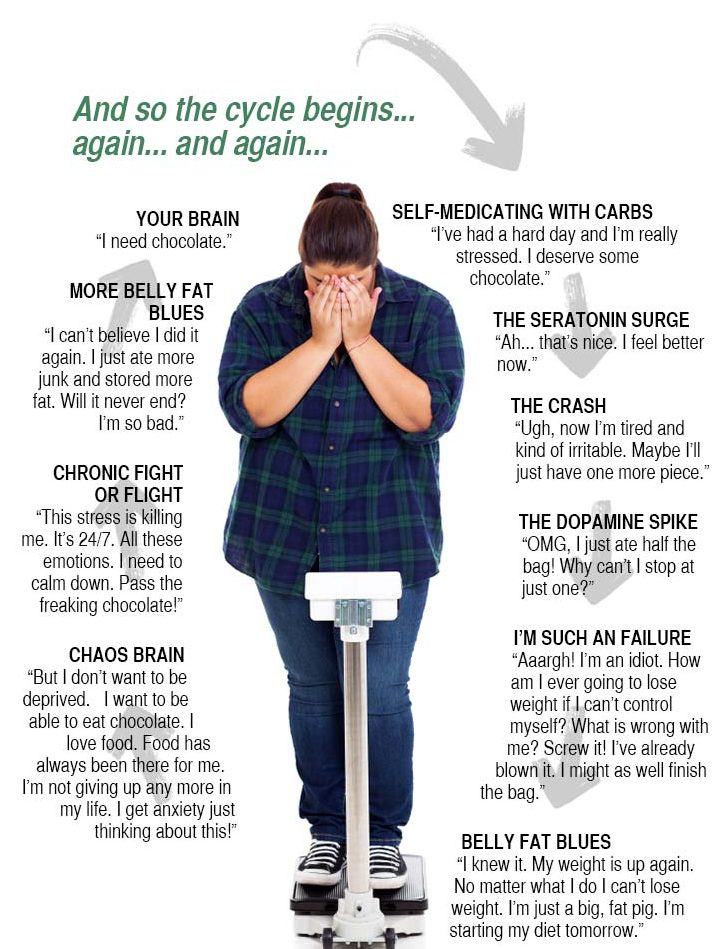 Are your cravings out of control?
Does the scale define your self-esteem? 
Is your weight keeping you from enjoying life? 
Do you bury your emotions instead of speaking your truth? 
Do you feel like your body is working against you?
 Do you feel like a failure when it comes to weight loss?
Do you have foggy, "chaos" brain
Do you love your carbs and comfort foods? 
 Do you know what you're supposed to do but you just can't do it?
Are you overwhelmed & stressed out? 
If the answer to these questions is YES, it's time to love your body and love your life!

As a registered dietitian and personal trainer, I saw people struggle for years with their weight – either not losing or losing and gaining it all back (and sometimes more).   So I've spent the last decade researching the psychology of food, cravings and our emotions, the effects of stress on belly fat, and how our weight loss hormones can either help us or harm us.  And then I discovered the truth!  It's not just about the food or the exercise.  We've "been there, done that".  There is SO much more to the story.  I completely revamped my private practice and start focusing on what REALLY works. 
 The truth is we simply must address our emotional eating issues.  This is the piece of the puzzle that has been ignored for too long.  We're doomed to repeat the same cycle of losing weight and then gaining it back unless we figure out how to curb our cravings, quiet our stress response, and balance our hormones.  As a holistic weight loss practitioner, I can help.  I've combined my years of education with certifications in energy psychology and mind-body weight loss to bring you the best possible program.   If you're ready to lose the weight AND keep it off, keep reading!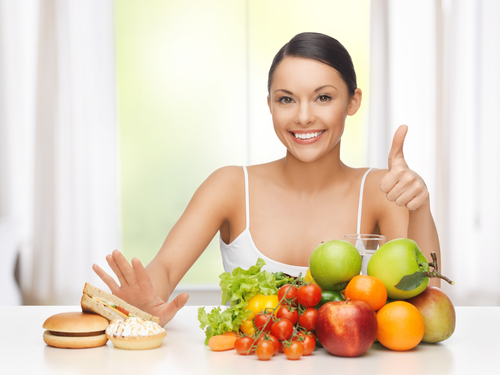 Love Your Body, Love Your Life has everything you need to lose the weight, keep it off, and experience the life you've been waiting for and the life you deserve!  I've combined cutting-edge nutrition and fitness with powerful mind-body techniques that literally rewire your brain for success. If you're ready to create the mindset necessary for permanent weight loss, this is the program you've been looking for.   Here's what you get.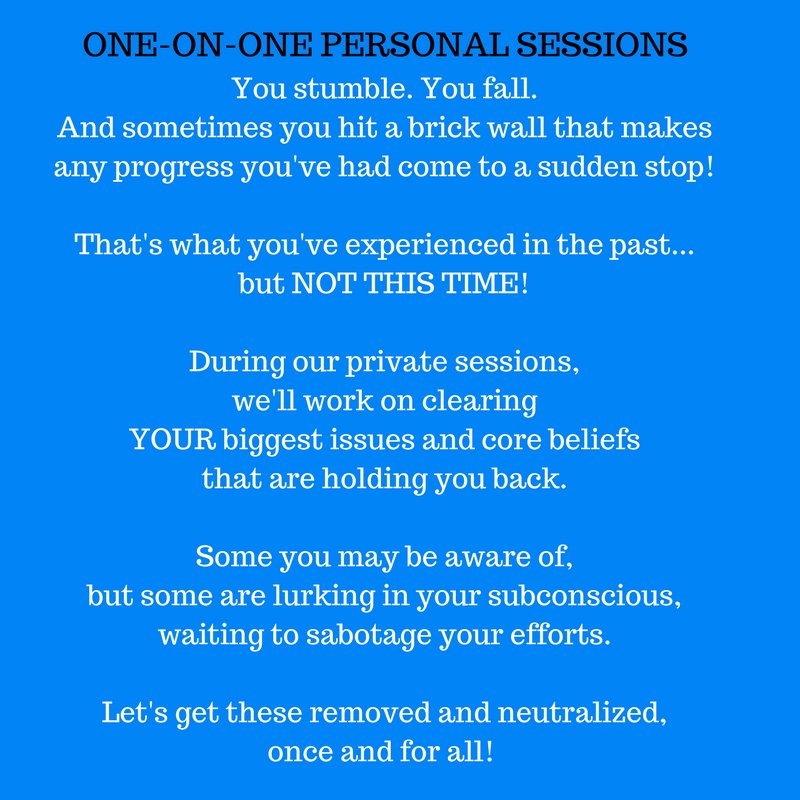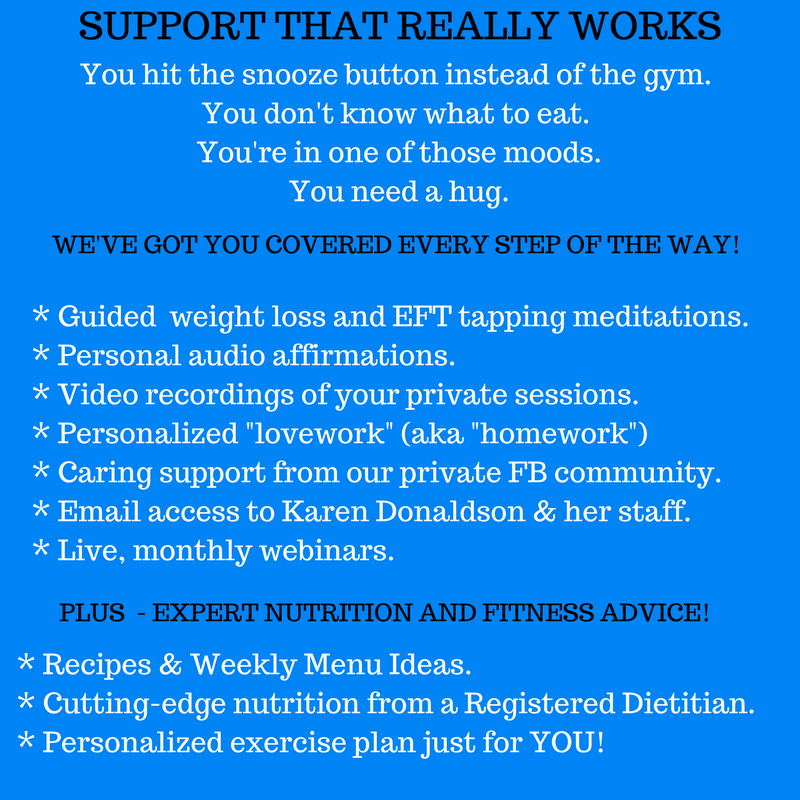 Here's what our participants have to say about the program and working with Karen.
"I had no idea that the stuff that happened to me in my childhood played in my weight issues.  I was literally stuffing down the pain with food.  In the past, when I started to lose weight, I would sabotage myself.  I now realize that I was using my eating and my extra weight to feel safe.  I've worked through some pretty serious traumas using Karen's tools and techniques and I'm starting to release the extra pounds.  It's all making sense now.  Dieting alone doesn't work.  It just triggered me.  Releasing all the shame and guilt I was holding onto freed me up to let go of the physical weight.  Thanks Karen.  TD
Do you feel safe in your body and in your world?   
We often hold onto extra weight to feel grounded and secure.  And a lifetime of living in fear or being in survival mode causes massive surges in stress hormones that make it nearly impossible to lose weight and keep it off.  But there IS hope.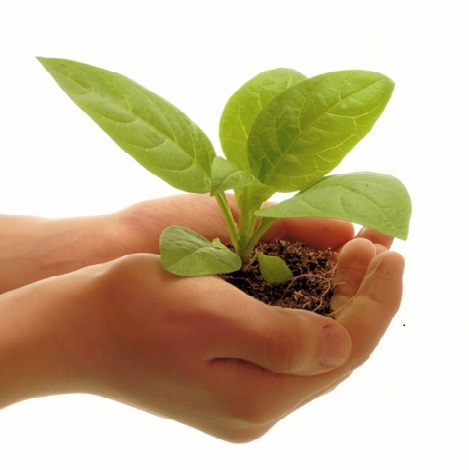 ---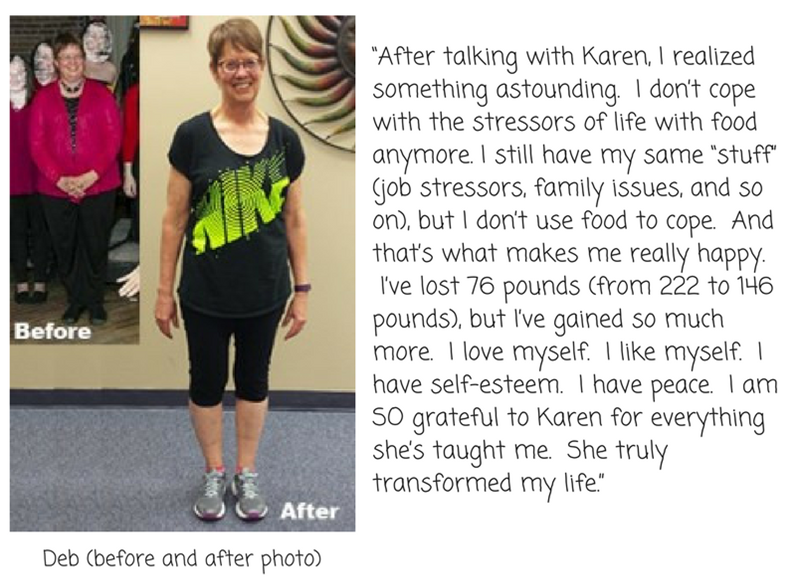 Has food become your best friend?
Many of us turn to food for comfort and relief from stress.  Food becomes our friend and our coping tool. 
The techniques you learn in Love Your Body, Love Your Life will give you better tools for your toolbox!
---
"I was the classic caretaker.  I was a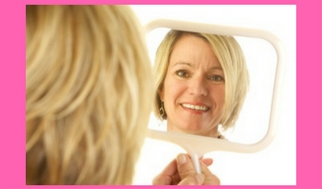 great mom and a good wife, but my needs came last.  I was really good at taking care of everyone else.   I didn't even know HOW to take care of myself.  Instead, I just ate, and ate, and ate.  I was miserable.  I can't even believe what I did to my body.  But I don't do that anymore.  Working with Karen has been fabulous for my self-esteem and my self-confidence.  I also learned how to take care me ME.  I lost over 100 pounds and kept if off for more than two years.  Forever grateful".  MC
Are you good at taking care of everyone except yourself?
If you don't feel valued and you're always putting others first, you'll love what happens when you start feeling better about yourself!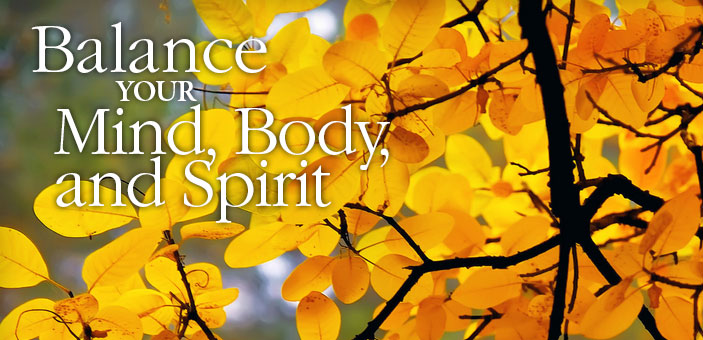 ---
 "Karen, do you know how nice it is to wake up everyday knowing that someone loves you! And that someone is ME!" HD
 Do you hate your body?                                                  
The problem with that hating on ourselves is that it doesn't work. If it did, we'd all be a size zero because we're so good at it!  Instead of deprivation and negative self-talk, we need compassion and love.  It's time to be as kind to yourself as you would be to your best friend. 
---
"Hi Karen.  I am SO happy to report that I am ready to eat the stuff that will actually help me lose weight (proteins, veggies, etc.) and to let go of the junkier carbs (cereals, cookies, breads, etc.).  I've never felt like this before . . . it's always been a matter of trying to force myself to eat "right" or trying to get into that diet/deprivation mode.  You really help changed my mindset.  I no longer see junk foods as "treats".  I can't believe I used to eat all the crap!    Forever grateful."  MC
Do you struggle with eating the "right foods"?  
The way you think about food and your body place a big role in weight loss.  You're going to love seeing things in a new light!
---
"Thank you Karen!  I feel like I've finally met someone who really understands this weight "thing".  I've been using your tapping meditations each day and I feel so much better.   I took them with me on our camping trip (on my phone).  I can't believe the difference they made.  For the first time ever I didn't eat my way through a vacation.  It was so wonderful to not have to come home to 5 extra pounds and that old cycle of trying to diet and starve myself to lose it.  Much love to you!"   P.S.  My relationship with my husband is improving.  Not sure how THAT happened but I suspect it's because I'm being more honest about my feelings and I'm learning how to express them in a more positive way.  I don't feel like I'm a "doormat" anymore.  Oh, and I'm losing weight now too!
Do you have "doormat" energy?  
Not speaking  up for yourself  is a huge risk factor for weight.    Speaking up can be scary and sometimes it feels safer to avoid conflict.  But not communicating your needs often results in burying your feelings and stuffing them down with food.  Imagine how great you'll feel experiencing your authentic self!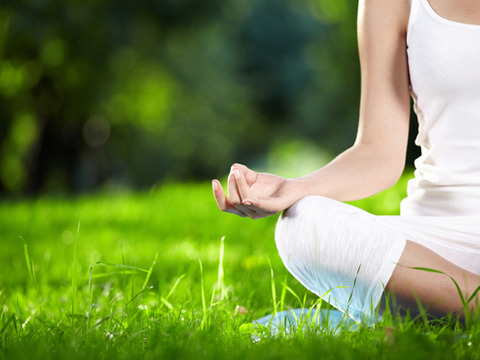 ---
"Wow, I seem to cry with each one of these (daily meditations).   For as long as I can remember, I've been in a constant battle with food and with my body.  Thank you for helping me to know it doesn't have to be this way.  Lots of tears on this one.   I am on a path seeking joy, peace, and freedom around food and I am so grateful    that you are showing me the way.   I love, love, love the affirmations.  Thank you, dear one."  TW
Are you in a constant battle with food and at war with your body?  
You deserve to  Love Your Body and Love Your Life.   We can help!
---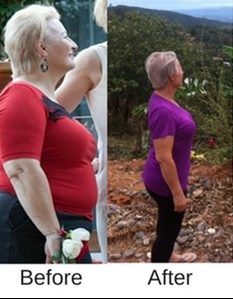 "My recovery was so extreme because I had given up. I had purchased bigger clothing and resigned myself to being older and heavier and sick. I had dieted my entire life – since I was about 16 – and had repeatedly put the weight back on.  Your program was different.  We did lots of work on healing the issues behind my cravings and I started losing weight – and it's staying off.  I've lost almost 60 pounds and kept if off for over 4 years now.  Your course gave me the mindset to change my life as well as my body. Thanks Karen!" – Mae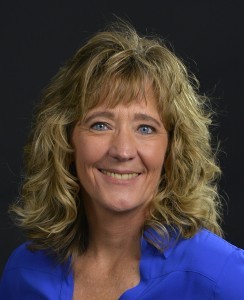 Karen Donaldson, MS, RD, LD is a registered dietitian, personal trainer, and the owner of EXCEL Weight Loss Solutions. She is a also a Certified EFT Weight Loss Coach and the instructor for the Naturally Thin You programs for EFT Universe. She has helped thousands of women transform their lives by teaching them how to release their physical weight as well as their emotional weight.
Enrollment for the Love Your Body, Love Your Life program is by application only.  We want to make sure this is the best fit for YOU.  To apply, please  click HERE to access Karen's on line calendar to schedule a free phone or Skype session to discover if this program is right for YOU.  Don't wait another day to begin YOUR weight loss and healing journey.