October 24, 2017
6:30 am to 9:30 am
Call 208-406-1084 to reserve a spot.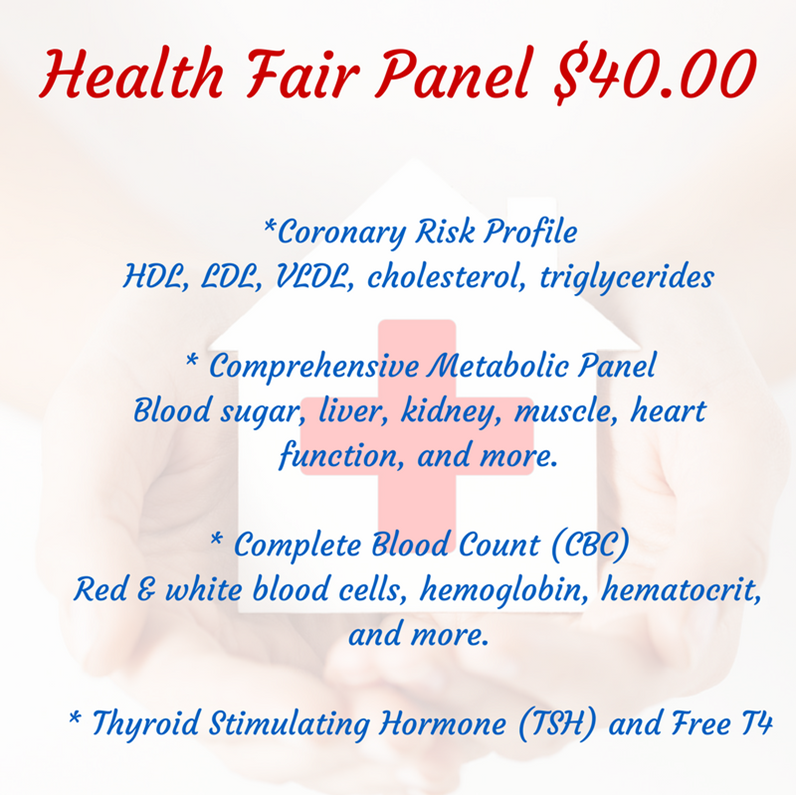 Additional tests include
HgbA1c (average blood sugar past three months – diabetes check) $25.00 
PSA (Prostate Specific Antigen – can help detect prostate cancer) $20.00
Vitamin D (deficiencies linked to depression, decreased immune function) $30.00
Insulin (for Insulin Resistance/Metabolic Syndrome) $20.00
T3 (thyroid) $20.00
Iron $10.00
****************
The following provides a brief summary of each section of your report and is not intended to be comprehensive or to replace discussing results with your healthcare provider.  
Thyroid Evaluation
The thyroid gland controls many functions in the body, including metabolism.  TSH is thyroid stimulating hormone the hormone that stimulates the thyroid to produce T3 and T4.
Complete Blood Count with Platelets
The tests in this section measure cells such as red blood cells, white blood cells, hemoglobin, hematocrit, platelets, and  different types of immune cells. 
Differential
The tests in this section measure different types of immune system cells.
Comprehensive Metabolic Panel
Glucose is a sugar that circulates in the blood.  High levels can indicate insulin resistance and/or type 2 diabetes.  Persons with type 1 diabetes also check their blood sugar levels.
BUN is blood urea nitrogen.  It is directly related to the metabolic function of the liver and the excretory function of the kidney.
Creatinine is used to diagnose renal (kidney) function.
Sodium, Potassium, and Chloride are electrolytes.  Abnormal levels should be discussed with your provider.
Total protein and Albumin are used to estimate protein stores in the body, among other things.
Alkaline phosphatase is used is used to detect liver or bone disorders.
AST is an enzyme found in tissues such as the muscle, heart, and liver.
ALT is also used to diagnose liver or muscle disease.
Lipid Panel
LDL cholesterol is considered the "bad" cholesterol, and should be less than 100
HDL is the "good" cholesterol and, in general, should be greater than 39
Triglycerides are fats in the blood in the blood that are associated with heart disease, insulin resistance, and type 2 diabetes.  They should be less than 150
VLDL is another type of cholesterol found in the blood and should be less than 40.
Insulin Resistance and Type 2 Diabetes
There are five factors used to "diagnose" insulin resistance.  In general, you only need three out of five of these factors to qualify.  They are:
High blood pressure – greater than 130/85 or on blood pressure medication
High triglycerides
Low HDL cholesterol
Higher fasting blood sugar levels (above 100 or 110 – depending on the source)
Extra weight in the belly area
Insulin resistance is basically "pre-diabetes".  If you're at risk, please contact your provider and/or our office.  There is MUCH that can be done to treat insulin resistance and type 2 diabetes with nutrition and exercise.  During a consultation, we'll explain how carbohydrates are metabolized and how blood sugars affect your mood, weight, and energy levels.  You'll learn how to lower your triglycerides, LDL, and blood pressure and increase your HDL – all with nutrition and exercise.  Of course, all the stuff we teach you helps decrease body fat as well.  Most insurance companies provide coverage for nutrition counseling for a variety of conditions, and Medicare provides coverage for diabetes and renal failure.