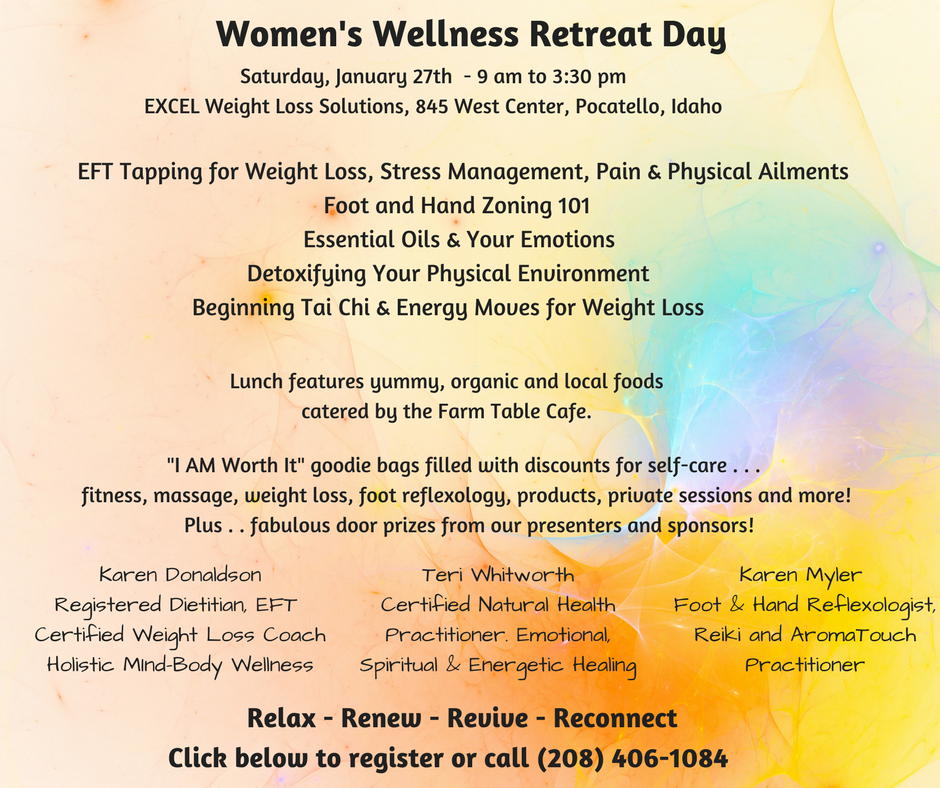 9:00 am—Welcome!
9:15 am—Intro to EFT Tapping
Learn how EFT tapping helps lower cortisol levels,
boosts your immune system,
and helps with weight loss, pain, and other physical ailments.   
10:15 — Foot and Hand Zoning 101
10:45 am– Healthy Nutrition Break
11:00 am—Essential Oils and Your Emotions
12:15  pm—Lunch & Learn
Lunch will be catered by The Farm Table Cafe and will feature super yummy and healthy organic and local foods.  
We know you're going to love it!  
Complimentary Hand Zone Session (1st 10 people who register)
Detoxifying Your Environment
Connect with our Presenters and Ask Your Questions!
2:30 pm – Energy Moves for Weight Loss
Beginning Tai Chi and other energy moves for weight loss.
3:15 pm—Summary and Farewell
Registration Fee – $85 
Includes all sessions, lunch and "I AM WORTH IT" goodie bag
packed with discounts for Hand & Foot Zoning sessions, Massage Therapy, 
Karen's Love Your Body, Love Your Life Program – and so much more!
Questions?  Email us at excelweightloss@gmail.com
Retreat will be held at EXCEL Weight Loss Solutions
845 West Center St., Pocatello, Idaho

(208) 406-1084