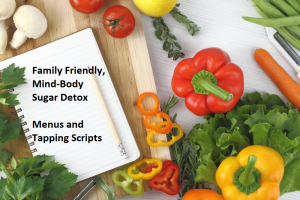 This program includes 14 days of menus – breakfast, lunch, and dinner.
Here's what it doesn't have:
Added Sugars
Processed Food
Wheat
Gluten
No artificial sweeteners
It Does Have:
Lots of healthy protein
Healthy fats
Fruits
Vegetables
Easy ways to have leftovers that everyone will love
Family friendly ingredients you can generally find in your cupboard, right now.
After completing the 14-day Meal Makeover Plan, you can:
Feel Calmer and happier
Find that your clothes fit better
Get better sleep
Increase your energy
Have better mental clarity and ability to focus
Get your family off the sugar train
Detox your body of artificial ingredients that hinder weight loss efforts
Improve your digestion
Bonus – Craving Busting Mood Boosters
To give your meal plans an extra boost, we are including a daily Mood Booster using the power of Emotional Freedom Technique (EFT).
These practices will help you to:
Release Emotional blocks
Curb Food Cravings
Eliminate negative beliefs