Thanks again for purchasing my book!  I hope it serves you well.
Karen Donaldson, Beat the Belly Fat Blues
Purchase Oils 
Essential Oils
Essential oils are natural aromatic compounds found in the seeds, bark, stems, roots, flowers, and other parts of plants.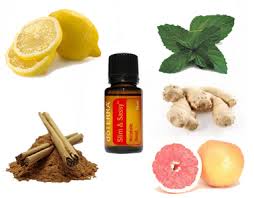 They can be both beautifully and powerfully fragrant.  It is important to remember that therapeutic-grade essential oils are highly-concentrated plant extracts and should be used with reasonable care.  There are several safety guidelines that you should follow when using essential oils and essential oil products.  These following guidelines are for adults.  Consult your healthcare provider for use with children.
Be sure to use only pure, therapeutic-grade essential oils and follow all label warnings and instructions.
If redness or irritation occurs when using essential oils topically, apply a vegetable oil – such as fractionated coconut oil or olive oil – to the affected area.
Essential oils should not be used in the eyes, inside the ear canal, or in open wounds. In the event of accidental contact with the eye, dilute with vegetable oil NOT water.
Do NOT consume an essential oil internally unless labeled with a Supplement Facts box with specific dietary supplement, use instructions, and warnings.
Discontinue the use of an essential oil if you experience severe skin, stomach, or respiratory irritation or discomfort.
Consult your physician before using essential oils if you are pregnant or under a doctor's care or have other safety questions regarding essential oils.
As you know from reading my book, there is SO much more to losing weight than counting calories!  To keep you calm and centered, well-rested, and healthy, my favorite oils to support weight loss are listed below.  However, please note that this is only a partial list.  If you want to learn more about oils, please visit my dōTERRA Essential Oils site by clicking HERE.
Balance Grounding Blend
For those moments of disconnectedness or anxiety, Balance creates a sense of calm and well-being. It's a warm, woody blend of spruce, rosewood, frankincense, and blue tansy with fractionated coconut oil.  If you're writing a book on weight loss, I recommend buying in bulk!!  J
Vetiver Essential Oil
Vetiver is loved for its rich, exotic, and complex aroma.  It's used extensively in perfumes as a base and it's woody, earthy scent complements many other essential oils.  Many people use a couple drops of Vetiver on the bottoms of their feet at night to promote relaxation and sleep – which is VERY important for weight loss.
Wild Orange Essential Oil
Cold-pressed from the orange peel, wild orange is excellent for energizing and revitalizing.  It is also commonly used as an effective tool for uplifting mood.  Try it with some tapping to give yourself a lift in the middle of the afternoon!
Peppermint Essential Oil
Peppermint is popular in countless forms, from toothpaste to chewing gum. As an essential oil, it is useful to ease headaches and calm upset tummies.  It's also a great pick-me-up when you need some extra energy!  Try using in place of that "energy" drink.
On Guard® Blend
On Guard is dōTERRA®'s unique, proprietary blend formulated to support healthy immune function. It combines wild orange, clove, cinnamon, eucalyptus and rosemary to offer a fragrant, natural and effective alternative to synthetic options for immune support.  A healthy body is a happy body, and that's good for weight loss too.
Essential Oils Basics
Store in cool dark environment
Ensure bottle caps are tightly secured
Never put essential oils directly into eyes, ears, or nose!
Use a carrier oil to dilute essential oils, such as coconut oil, grape seed oil, olive oil, almond oil, etc.
Whenever possible do not use plastic containers.  Essential oils will leach the chemicals out of the plastic and into the solution in the bottle.  Use glass or aluminum containers.
Using Essential Oils
To use topically:
Apply to bottom of feet
Apply to pulse points like the wrists
For headache, apply to forehead, temple, back of neck, pulse points
For sinus issues, apply across nose
For chest congestion, apply to chest diluted with a carrier oil
Air Freshener – Create a spritzer to purify your bathroom, playroom, or kitchen.  Make others to enhance the atmosphere of your living room or bedroom.  Fill a 4 oz. spritzer bottle with distilled water and add about 40 drops essential oil.  Always shake before spraying.
Baths – Add 8 to 10 drops of essential oil to 1 teaspoon carrier oil.  Add to fully drawn bath and gently stir into water.
Body Balm – Add 10 to 20 drops essential oil to each ounce of lotion base.
Body Spritzer – Mix 4 ounces distilled water with 30 to 50 drops of essential oil.  Shake well before each use.  Avoid spraying into eyes.
.To use aromatically:
Place 2 to 5 drops essential oil on clean tissue, then inhale.
Rub a few drops in the palms of your hands then inhale.
Diffuse using a cool mist diffuser.  Heat will decrease the effectiveness of the essential oils.
For more information on essential oils, click HERE.