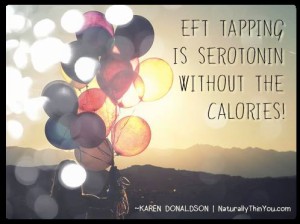 Learn about the science behind EFT (Emotional Freedom Techniques) for weight loss?
Listen to my radio show as I interview Dr. Peta Stapleton, a registered Clinical and Health Psychologist and Assistant Professor at Bond University in Australia. Stapleton specializes in eating disorders, women's health and adolescent issues.
In 2008, she led a world first clinical trial investigating the effectiveness of EFT for food cravings. The study showed a decrease in cravings with weight loss that was maintained 12-months later.
Stapleton also just concluded another study examining EFT vs Cognitive Behavioral Therapy. Both were effective at reducing cravings, but the EFT group lost, on average, more weight over a six-month period.