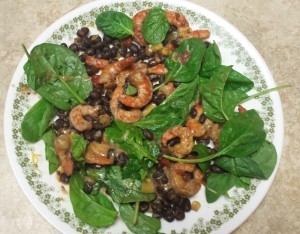 This recipe is ridiculously easy and amazingly yummy.  With just 4 ingredients, you can serve it up in no time.  Shrimp is a great source of protein, with nearly 26 grams per 4-ounce serving.  Shrimp also provides selenium, an important mineral.  Deficiencies have been shown to increase our risk of cardiovascular disease and heart failure as well as type 2 diabetes, depression and compromised cognitive function.   The beans provide high fiber carbs and the spinach protein loads of phytonutrients and color.
Ingredients:
2 lb bag frozen shrimp, no tails, thawed
2-3 cans black beans, drained
24 oz jar Mellow Black Bean & Corn Salsa (Private Selection Brand at Fred Meyer) or salsa of your choice
6-8 cups fresh spinach leaves
Directions:
Thaw shrimp in refrigerator according to package directions.  Combine shrimp, black beans, and the entire jar of salsa in large skillet.  Heat over medium high about 8 minutes, allowing the liquid part of the salsa to warm the shrimp and beans.  This mixture will look like a bit like a soup because of all of the liquid in the salsa.  When the mixture is thoroughly heated, pour the mixture into a large colander to drain the liquid.  Return to skillet to keep warm.  Serve over spinach to make a salad.