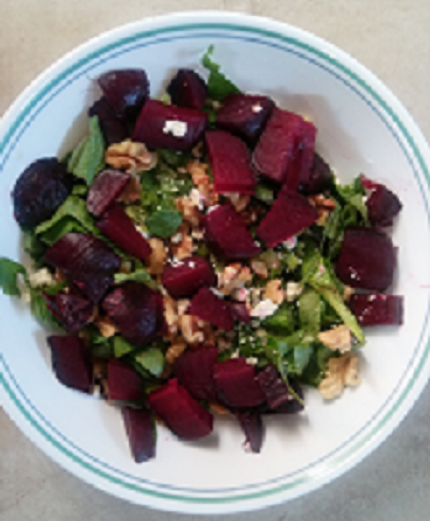 Who knew it was so easy to grow beets?!  This was the first year I planted them in my garden and I'm so glad I did.  Whether you grow them or buy them, beets are a breeze to prep and they're a nutrition powerhouse.  Each 2-inch beet has just 35 calories, 7 grams of carbs, and lots of potassium and vitamin C.  Their colors are beautiful and they taste delicious!
Ingredients:
4 beet roots, leaves and stems removed and washed thoroughly
1 TBS olive oil
1 head of lettuce or greens of your choice, chopped
1 cup walnuts, chopped
4 oz Feta cheese, crumbled
Orange Poppyseed Dressing to taste (or dressing of your choice)
Directions:
Preheat oven to 425 degrees.  Coat the beet roots with olive oil and place in small baking dish.  Cover and bake for 50 minutes.  When done, remove from heat, let cool, and chop into small, bite-sized pieces.
Combine lettuce, walnuts, Feta cheese, and chopped beets in large bowl.  Toss with dressing and serve.  Makes 4 servings.  Mindfully enjoy by savoring the flavors, textures, and colors.