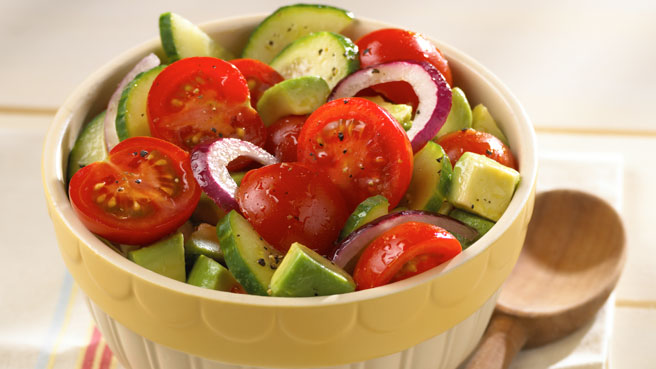 Cucumber, Tomato, Avocado, and Garbanzo Bean Salad
This salad is not only tasty, it's beautiful!  And it's full of protein, healthy fats, fiber, and just a few carbs.  The addition of the garbanzo beans makes it a complete meal.  Consider using organic beans in a non-BPA lined can to make it even healthier.
Two, 15 oz cans garbanzo beans, drained and rinsed
6 large tomatoes (Romas work well or use tomatoes of your choice), chopped into small bite-sized pieces
2 cucumbers, chopped into small bite-sized pieces
2 avocados, diced
1 small purple onion, thinly sliced into bite-sized pieces
½ cup Balsamic Vinaigrette dressing
Directions:
Combine all ingredients in a large bowl.  Mix well and then enjoy mindfully!