Lower Carb Strawberry Rhubarb Crisp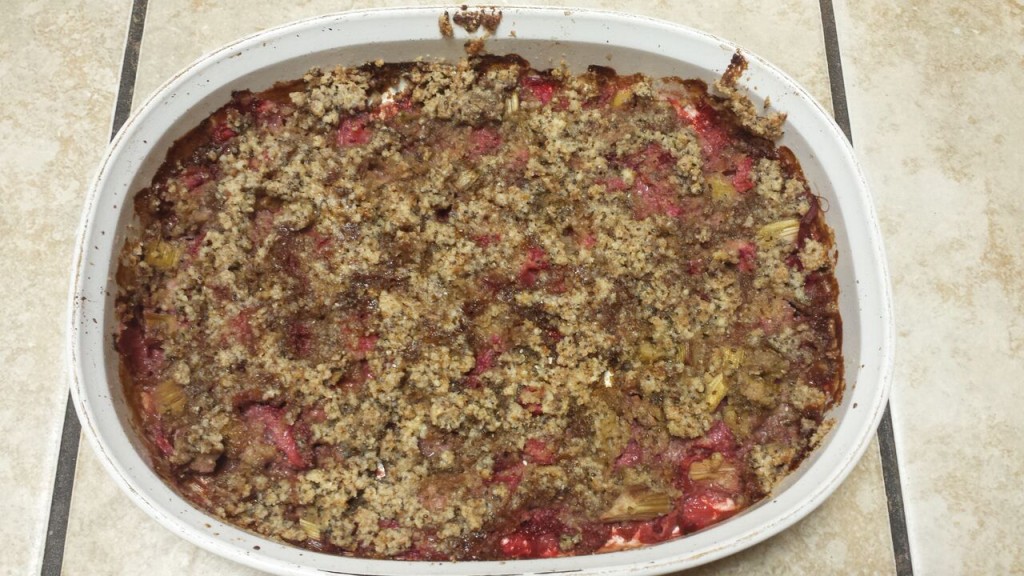 This recipe is SUPER delicious and very low in carbohydrates and high in fiber and heart-healthy fats and the crushed cashews or almonds add just the right crunchiness.   
Serve as part of your breakfast or enjoy as a treat that is truly good for you. 
 Ingredients:
2 cups strawberries, diced
2 cups rhubarb, diced
1 cup almond flour
4 TBS sugar, divided (white, organic, or coconut sugar)
¼ cup coconut oil, melted
1 TBS chia seeds
1 TBS hemp hearts
1/3 cup cashews or almonds, crushed.   (Place the cashews or almonds in a resealable bag and use a rolling pin or glass to crush them). 
Directions:
Preheat oven to 350 degrees. 
Combine the strawberries and rhubarb with 2 TBS of the sugar and layer the bottom of a 1 quart baking dish with this mixture.
In medium bowl, combine the almond flour, chia seeds, hemps heart, melted coconut oil, and the rest of the sugar (2 TBS).  Stir until all the ingredients are moist from the coconut oil.  Spread this mixture evenly over the top of the strawberry rhubarb mixture.   Sprinkle with the crushed cashews or almonds.
Bake for about 30 minutes, until the top starts to brown and the juices are bubbling around the edges.