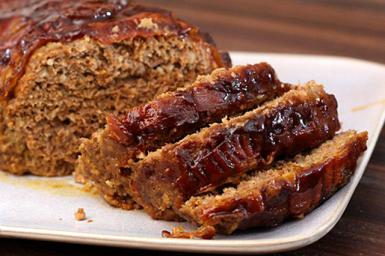 This recipe conjures up great memories of my mom, Lana Collins.  The directions are even written in her handwriting!  Make a pan or two and enjoy the good times with your family.  I double the recipe so there would be plenty of leftovers.    As always, this recipe is easy and delicious.  Love 'ya Mom.
Moms Meatloaf
Ingredients for the meatloaf:
1 ½ pounds ground beef
2 cups soft bread cubes
½ cup celery, finely chopped
1/2 cup onion, finely chopped
1 green pepper, finely chopped
1 ½ tsp salt
1 egg
½ cup catsup
Ingredients for the sauce:
One, 16-oz jar of salsa, mild or medium – your choice
½ cup catsup
1 tsp dry mustard
3 TBS brown sugar
Directions:
In large mixing bowl, combine ingredients for the meatloaf, mixing well.    Use your hands to squish and blend if needed – that's what mom always did! 
Spray 9 x 5 inch glass baking pan with non-stick cooking spray and pat the meatloaf mixture evenly into the pan. 
In medium bowl, combine ingredients for sauce.  Mix well.  Spread sauce evenly over the meatloaf.
Bake 60-90 minutes at 350 degrees.  Test for doneness with meat thermometer.  Enjoy!