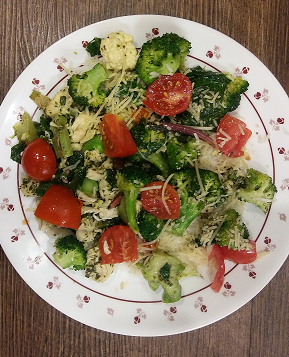 Salads are great, but sometimes my clients share with me that they are still a bit hungry after eating one for a meal.  A quick and easy way to add just a few carbs is to stir in ½ cup of cooked rice or couscous.  Couscous is a grain that cooks up in about 5 minutes, making it a fast addition. They are many pre-seasoned varieties available that can add some extra flavor and texture.  One of my favorites is Roasted Garlic.  
Pesto & Parmesan Chicken and Veggies
Ingredients (for 4 salads):
1 small head cauliflower, chopped into bite-sized pieces
About 3 cups broccoli, chopped into bite-sized pieces
4 tomatoes, chopped or 2 cups cherry tomatoes, cut in half
1 small purple onion, chopped into bite-sized pieces
2 cups cooked chicken breasts, chopped into bite-sized pieces
4 TBS olive oil
2 small cartons fresh pesto
½ – 1 cup freshly grated Parmesan
Directions:
In large skillet, cook chicken breasts over medium heat with olive until just done.  Set aside, let cool, and then cut into bite-sized pieces.  In same skillet, stir-fry the cauliflower, broccoli, and onion in the remaining olive oil about 4-5 minutes, being careful not to overcook.  Combine the veggies, chicken, and pesto, mix well, and heat until warm.  Top with the Parmesan and tomatoes.  Serve as is or over rice. Enjoy the great textures, flavors, and colors!