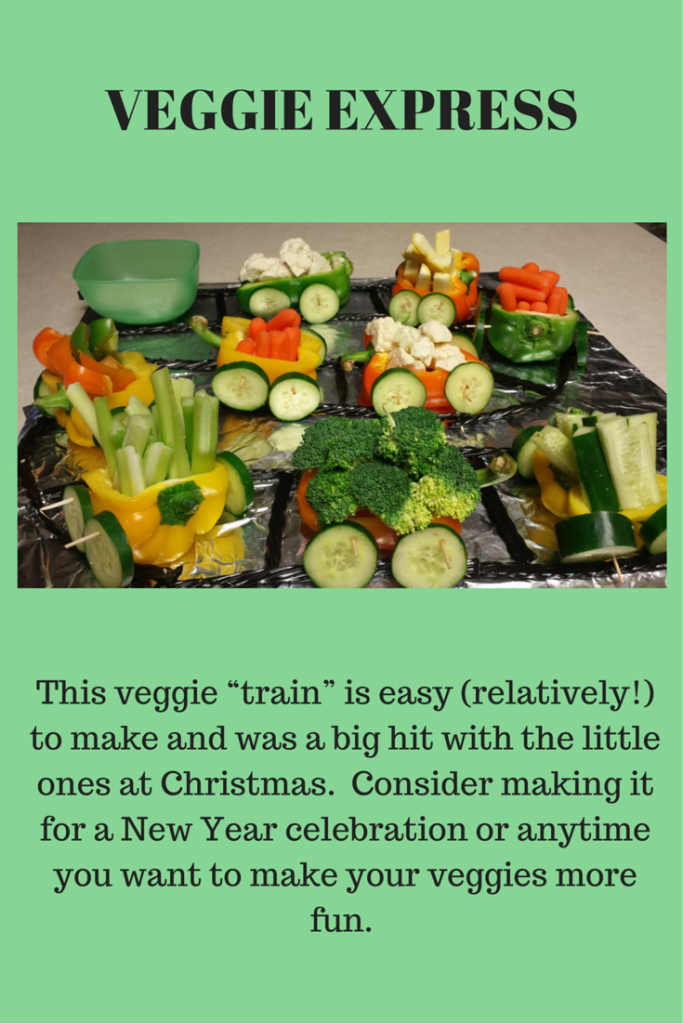 I love it when I try to make something I saw online – and it turns out great!  This veggie "train" was easy (relatively!) to make and was a big hit with the little ones at Christmas.  Consider making it for a New Year celebration or anytime you want to make your veggies more fun. 
The Veggie Express
Ingredients:
2 cucumbers, sliced into circles
9 or 10 bell peppers, assorted colors, cut as directed below
1-2 yellow squash, cut into thin "sticks"
Baby carrots
3-4 celery stalks, cut into thin "sticks"
½ head broccoli, cut into individual stalks
½ head cauliflower, cut into individual pieces
One large baking sheet or piece of cardboard, covered with foil.
Toothpicks
Black licorice (optional)
Directions:
This "Veggie Express" is easy to make. Line the baking sheet or cardboard with foil.  Use the licorice to make the train tracks.  Cut the licorice as needed to make the inside of the track.
Wash and prep the veggies as described above.  The peppers are the cars of the "train" and the cucumbers are the wheels.  To prep the peppers, cut in half length-wise, leaving the stem.  Remove the seeds and slice the rest of the pepper into thin strips.
Using toothpicks, attach 4 cucumbers "wheels" to each of the peppers.  Stuff each car of the train with a different veggie.  Place the pepper "cars" on the baking sheet/cardboard, on the licorice "tracks". 
Serve with dip of your choice. 
Yummy, colorful, fun, and delicious!