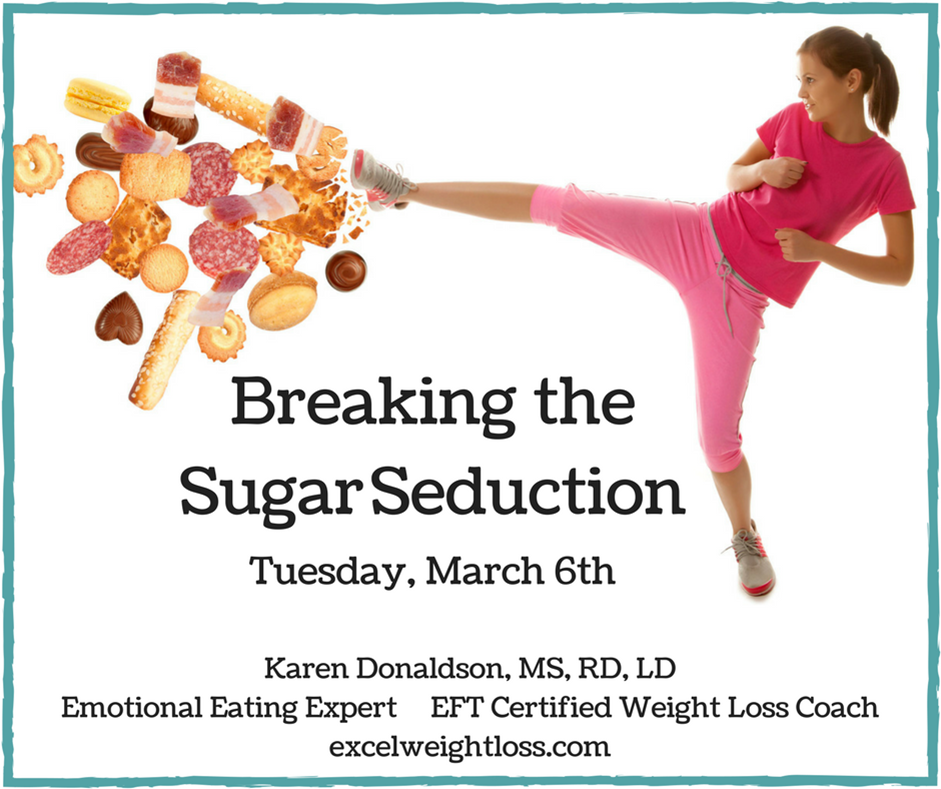 Still Struggling with Sugar Cravings?  Here's What You'll Learn at This Workshop.
truthbomb#1.  It's not your fault!  You're brain has been hardwired to seek out treats as a reward.  But there IS HOPE!
truthbomb#2.    Why "willpower" doesn't work and never will and what you can do instead to naturally curb those cravings and habits WITHOUT FEELING DEPRIVED, DEPRESSED –  OR GIVING UP AND BINGE EATING!
truthbomb#3 –  Powerful techniques to help you BREAK UP WITH SUGAR.  The simple tips I share can help you rewire your brain quickly.  Miss this important piece and you're destined to continue the lose-gain cycle over and over and over!
Imagine what it would be like to have your body actually repel the desire for sugar!
These techniques can help you finally take control of your body…
but miss this important "how-to" and nothing will change.
Are snacks something you eat to refuel between meals or something you do when you watch TV or are bored?  Are sweets a reward for hard work or do you look for other ways to feel good. 
We develop our relationship with food at a very young age.  Research shows us that if our parents used food as a reward or punishment when we were kids that we're very likely to carry these patterns with us into adulthood.  Oftentimes, we end up in a viscous cycle of overeating followed by episodes of food restriction.
As a dietitian who specializes in cravings and emotional eating, I see firsthand how this plays out in in adulthood. Many of the people I work with see food as a reward for their hard work and stressful lives. When the day is finally done, they find themselves unwinding with a glass of wine – or two or firmly planted in front of the TV with their carbohydrate drug of choice.  The next morning they hop back on the diet wagon and vow to be "better".
If you're tired of living in this cycle, come to our webinar.  "Breaking the Sugar Seduction".  You'll learn the science of HOW our brains get hardwired to seek out those treats and why we often need more and more and more.  But there is hope!  During the webinar you'll get to practice some powerful techniques that will shift your brain chemistry and help YOU break the sugar seduction.
If you're ready to TREAT yourself with something other than junky carbs, join me on Tuesday, March 6.  The workshop starts at  starts at 12:00 pm MST.  You can attend live or watch it later at your convenience. 
Attend the webinar for just $25 or . . . 
REWARD yourself with an act of self-care that doesn't involve food!
Get the webinar plus a one-hour private session with me for just $75.
Here's what my clients have to say . . .
"Wow, I was really surprised at how great this works.  My craving for cake was just gone.  Even my husband was impressed!  Thanks Karen!"  MT
"It was weird . . . the cookies didn't even taste good anymore.  I don't really understand what happened but that doesn't matter.  What matters is that I don't want the cookies anymore!".  AR
"My night eating was the worst.  And I wasn't even hungry.  But once I started using the tools Karen taught me I didn't feel the need to snack my way through the evening.  I finally feel like I am the one in control and not the sugar." GC
As a special bonus, you'll also receive my 3-part video series that answer the question "I know what I'm supposed to do so why can't I do it?!"
You'll learn all about how carbs get stored as belly fat, how sugar hijacks your brain, and why it's vital that we get our stress under control if we're ever going to lose weight and keep it off! 
Don't wait another moment!  Click HERE to learn how to finally break up with sugar!