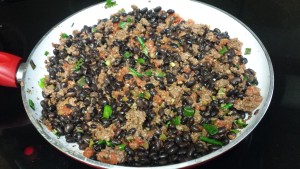 If you can boil water you can make this recipe!  It's SO easy.  And the main ingredient is an ultra-healthy organic soup.  Look for Pacific brand Organic Spicy Black Bean & Kale soup in the health food section of your grocery store.   The ingredient list is free of the additives usually found in prepared soups (water, black beans, tomatoes, kale, onion, corn starch, carrots, celery, garlic, sea salt, apple cider vinegar, chili powder).   Each serving also has 7 grams of fiber.  Serve over brown rice to make a meal.  Scale up or down for your household needs. 
Ingredients:
2 cartons (17 oz each) Spicy Black Bean & Kale Soup
1 cup brown rice
2 cups water
Directions:
Cook brown rice according to package directions.  Note – it takes this rice about 50 minutes to cook, so prepare earlier in the day or start simmering it as soon as you walk in the door at the end of the day!
Heat soup  until thoroughly warmed.
Serve soup over the rice.  Doesn't get much easier than that!