"Detoxing" doesn't have to be scary – and you don't have to do it alone!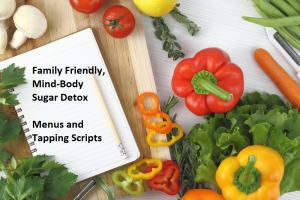 A good place to start is by getting the excess sugar out of your diet.  Our 14-day Family-Friendly Sugar Detox gives you the menus and recipes you need to prepare foods that you and your family are familiar with PLUS easy solutions to make them work for EVERYONE in the home. 

You can get this detox as part of our Spring Weight Loss Special which includes Karen's new book Beat the Belly Fat Blues: Mind-Body Solutions for Permanent Weight Loss.  You'll also get help with your emotional eating and cravings with 6 recorded audio sessions, a "Food and Mood" journal, unlimited fitness classes, a fabulous book on affirmations, a bottle of Balance essential oil, and discounts on private sessions with Karen.  For more information, email us at excelweightloss@gmail.com.