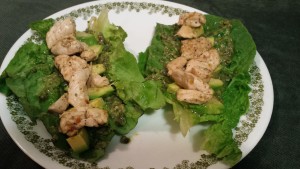 In less than the time it takes for delivery, you can serve up a meal that's not only delicious but chock-full of healthy fats. This pesto is made with olive oil, walnuts, and pine nuts and is very yummy. So good you'll want to cook extra for lunch leftovers!
Fast & Easy Pesto-Chicken Wraps
Ingredients: 2-3 pounds, boneless, skinless chicken breasts,
chopped One 11-oz carton Buitoni Pesto with Basil (or pesto of your choice)
½ purple onion,
thinly sliced Swiss or goat cheese (or cheese of choice)
1 tsp olive, avocado, or coconut oil
Romaine lettuce leaves and/or flour tortillas as "wrap"
Directions: Sauté chicken in oil of choice in large frying pan, about 8-10 minutes, until done. When chicken is almost done, add onion slices to just soften. Remove from heat. Stir in pesto and mix thoroughly. Place a spoonful or two of chicken mixture in a flour tortillas or Romaine lettuce leaf. Top with cheese of your choice and wrap it up! Serve with whatever raw veggies you have on hand and call it a meal.